When the weather gets cold, it can be tough to decide what things you can do with your dog. There are many things that you could do with your pup during the warmer months that you can't do once it cools down. Since dogs need at least half an hour of exercise a day, it's important you find ways to get them moving, even in the winter. Here are some fun winter activities you can do with your dog!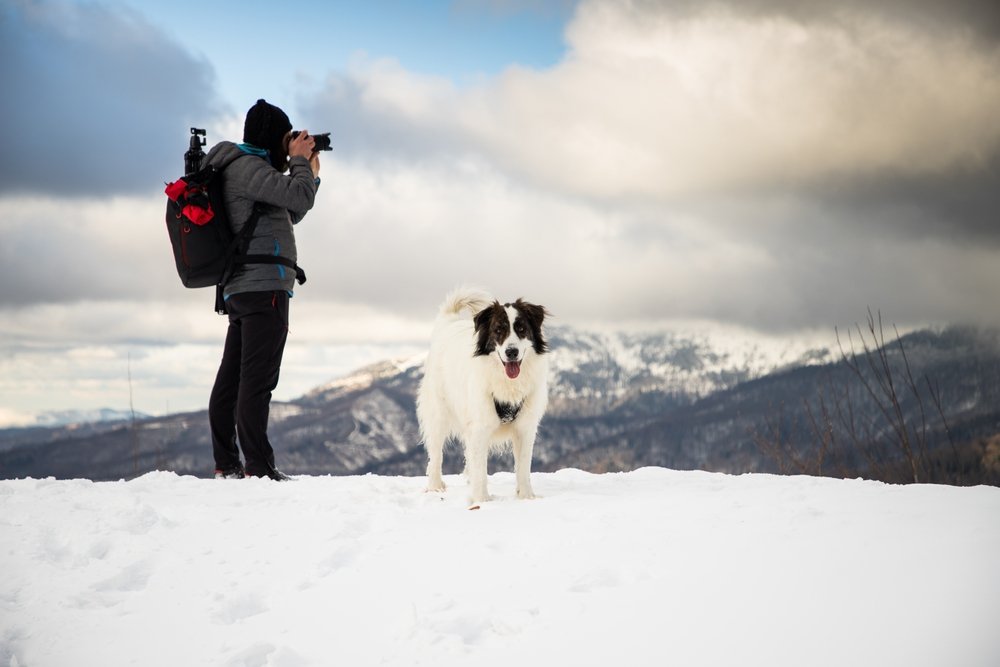 Hiking. There are lots of places you can hike with your dog in the winter! National parks and local trails typically have different hours in the winter than in the summer, and they might shut some of their more difficult trails down for safety, but there's still usually a lot to do. Make sure you invest in a dog collar and leash set so you can keep track of your pup while on the hike. Even the most well-trained dog can be difficult to get to if they go bounding across snow and ice. The trails that are open in winter are usually treated and cleared, but when your dog goes off the path then you might find yourselves in an unsafe situation. Do them and yourself a huge favor and get a collar and leash set!
Road Tripping. You might think road tripping is an activity best suited for summer, but it's great for winter too! If you travel during the holiday season, then you might even get to take your pup through cities and towns with picturesque holiday lighting. Of course, you'll want to watch the weather forecast and be prepared for travel delays. You'd have to do this in the summer too, especially in the midwest. Their severe storm-prone atmosphere typically kicks up heavy winds, flooding and tornadoes. The northwest and east coast can see severe weather in the winter, too, so make sure you're prepared for time on the road. When traveling with a dog, make sure you have food, water, medications and a dog-safe first-aid kit. If you aren't sure what to put in their first-aid kit, you can speak with their vet about what times to include.
Fetch at the Dog Park. Sometimes, there's nothing better than playing a simple game of catch at the dog park with your pup. During the winter, there tends to be fewer people at the dog park, so you and your pup can spread out and have a great time playing together. Bundle up in all your winter weather gear, and make sure they're outfitted in everything they need for the cold as well.
Since they'll be at the dog park, you'll also want to have their dog tag updated with current information. Did you know you can get a tile tag for pets? These dog tags feature Bluetooth technology that can be a great addition to any pet parent's stock of pet accessories. If you're the pet parent of a dog that's notorious for running away, chasing squirrels or following a scent they catch, then you'll need a tag that can help to track them down.
Sledding. Is there snow on the ground? Take your dog sledding! Whether you let them sit on the sled and you pull them through the snow or you let your Husky mush you like they were bred to do is entirely up to you. But, if you've got snow on the ground that is packed enough to sled on, why not take your dog out there to enjoy the snow? They'll get some much needed exercise and you'll get to bring back some nostalgic memories of sledding as a kid. Bonus points if you have more than one dog to enjoy sledding with!
An Indoor Dog Park. Don't want to play fetch outside with your dog? Depending on the temperature, it might not be safe. However, an indoor dog park might be just the solution. Take your dog to an indoor dog park so they can socialize, run around and have a great time with other dogs. You can still play fetch with them, but this is a much safer alternative that will keep you and your pup warm when it reaches below freezing outside.
Camping. Camping can be just as fun in the winter as it is in the summer! Sure, it'll be colder and requires a bit more effort, but the reward is just as great. The fire you make will help to keep you both warm, and they'll get to snuggle in your tent with you. It's a great way to combine hiking with another winter event.
When camping with your dog, you'll want to be sure you have everything you need. Extra food, purified water, first aid kit, dog shoes and even their medications are all essentials to ensuring your dog stays safe and healthy while you camp together. While camping in the winter is fun, it can be dangerous. Keep yourself and your dog safe by packing everything you need and more for your camping trip. Even if it's just a weekend, it'll come in handy to have more than enough available.
Shovel Out a Maze in Your Backyard. You can have some major fun watching your dog run around in your backyard by building a maze for them using the snow that's fallen! Take your shovel and create narrow pathways that connect and turn for your dog. Then, open the door and let them run wild! This is perfect for when you need to shovel snow but aren't too sure what you want to do with the pile. This way, you can easily use the extra discarded snow to use as the walls for your maze tunnels. Then, you won't have to worry about your pup jumping over one tunnel to another.
Even though the winter can feel like a difficult season to keep your dog active, there are lots of fun things you can do together. Enjoy some fun out in the winter weather, and you'll see just how much your dog enjoys the season!