Your feline friend can be a part of your life for a long time. That's why you need to stay vigilant about her care and make sure you are doing everything to help her stay fit and healthy. Here are some tips that will give you some tricks to keeping your cat well.
Make a free toy for your cat by placing a little dry rice or a few dry beans inside an empty pill bottle. Close the lid and roll the rattly toy across the floor. Most cats can't resist sound and motion. You can also tie a length of twine around the neck of the bottle to make a pull toy or a dangly toy.
Keep dangerous chemicals away from your cat. Just like children, cats need to be kept away from items like cleaning materials since they could harm them. These chemicals are basically poison and if your cats consume some or get some on them, they could get very sick, get burned, or possibly die. Store these items in a place where your cat can't find them or use a child-proof lock on their location.
Spray bitter apple on electrical cords to keep cats away from them. Cords should be covered, especially if your cat tends to chew on them. Any loose cords should be bundled up and placed in things like paper towel rolls. Put away electronics that have tempting, thin cords when you're not using them.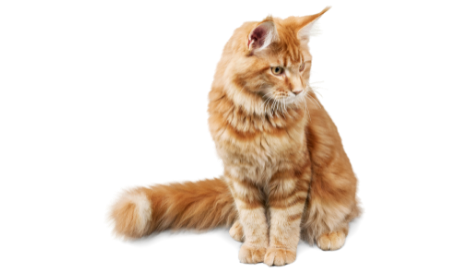 If you absolutely must bathe a cat, set everything up in advance. Set up two tubs large enough to dunk a cat. Fill them with comfortably warm water. Set your open bottle of cat shampoo, a heavy towel, and a secure pet carrier close by. Wear heavy rubber gloves. Grasp your cat by the scruff of the neck. Dunk, shampoo and scrub quickly in one tub. Dunk to rinse in the second tub. Wrap the cat securely in the towel and place it in the carrier to dry.
Keep your cat indoors. Unlike dogs, it is nearly impossible to confine a cat to a yard. This can lead to many dangers for your cat, from cars, dogs, diseases from feral cats, and simply disappearing to parts unknown. Loose cats also be a nuisance to others, often killing songbirds and leaving unwelcome "deposits" in neighbour's gardens. If your cat really enjoys the outdoors, they can be trained to wear a harness and leash or you can invest in a speciality cat fence or screened-in porch.
If your cat tends to be antisocial and anxious with company, try giving it a catnip toy a few hours before the company arrives. Many cats become very mellow when exposed to catnip. Even if your cat does not want to socialize after catnip exposure, it will probably be happier and less anxious.
Avoid letting your cat get bored. Cats need play and exercise. Sadly, this can be easily overlooked. Cats who become bored often have issues that can affect them in a big way. Some of these issues are obesity due to eating out of boredom, OCD issues, fighting with other pets and depression. Give them room to play and a large number of toys. An indoor cat needs a good scratching post.
Do you love your cat but suffer from allergies? If giving up your feline friend is not something that you can do, try these things first. Get rid of as much carpeting as possible because your cat's dander gets trapped in it. You can also not allow your cat in your bedroom at all. This will make living with your cat easier on your allergies.
Hopefully, you've got some great ideas from this article about how to make sure your cat is healthy and fit. Your cat is a dear, trusted friend, and you want her to stay well. Just put the tips here into practice, and you will see that your cat stays happy.